We now have the years dates for your 'workshops', published on the website, for you students to peruse at your leisure!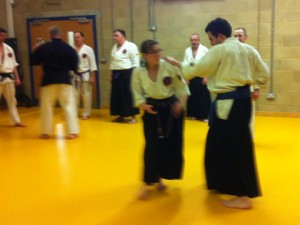 There is a change to the workshops format this year, we hope it will make attending them easier for everyone. As we are all leading busier lives and weekends have become a little more precious, our 4 workshops this year will be for 2 hours on Monday nights at the Dean Close Dojo!
As before, these events will be free to all our existing students – all part of your training programmes. However, if you know of anyone that would be interested in the subject, or would like to give martial arts a try, then they are most welcome. Their fee is only £10. Just get them to call Richard Trafford or Tim Dickerson – or drop us an email from the website.
The first workshop is next month, on Monday the 2nd of March at 6.45pm and is on:
ORIENTAL WEAPONS
This is always a popular subject with the students, and gives you the chance to get back in touch with your Nunchaku and Jo Staff skills. Or even the double batons, which were a big hit (every pun intended) last year!
There will be of course 'Sword' on offer, bokkens and/or live blade if you have one.
We will be publishing the details of this event up on the website soon. Plus, putting descriptions of our other workshops up as they get closer. Please follow THIS LINK for the full list on our web site.
As we are now using Dean Close on the Monday we have more flexibility, so there may be some 'ad hoc' events running at short notice – and possibly some guest instructors! So let us know if you have any requests, or a favourite subject not on the list, who knows…we might run one just for you!
See you in the dojo!